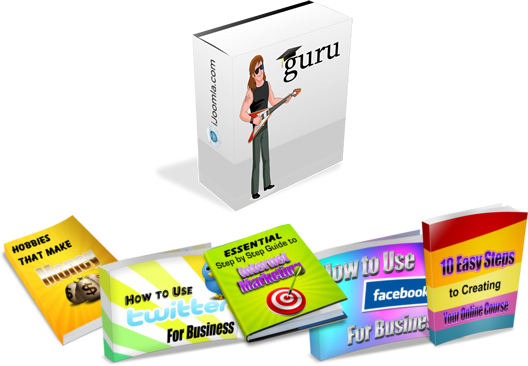 Bonus #1

: Ten Easy Steps to Creating Your Online Course! (3 Page Report)
Create a successful online component for your course in just 10 easy steps.

Bonus #2

: How To Use FaceBook For Business (35 Page Book)
Facebook is vital for any online business. This concise ebook will show you how to promote your course on the Web's most important social media platform.

Bonus #3

: How To Use Twitter For Business (39 Page Book)
Sell your course and build your revenues 140 characters at a time. It's easy when you know how.

Bonus #4

: Essential Step-by-Step Guide To Internet Marketing (35 Page Book)
Go from new online seller to steady revenues with this easy-to-follow manual.

Bonus #5

: Guru Online Video Training Course
Our own online tutorials — built with Guru — that explain how to use Guru Learning Management System.

Bonus #6

: iJoomla Guru Updates for 1 year
Buy today, keep getting the latest version for the next twelve months.

Bonus #7

: Camtasia 30 Day FREE Trial
Camtasia makes creating online video courses with Guru so simple. We use its video recording, screen capture and presentation software to make our online courses. You should too. (iJoomla is not a partner or an affiliate of Camtasia. We're fans.)

SPECIAL BONUS:

 Comment plugin ($27 value) - Add a comment box to your lessons, integrated with Kunena forum!

There's a ton of bonuses there — and they're all valuable. Buy each one separately, and you'd have to pay more than $500 for the lot. Put them all together and you've got a complete education that will show you how to turn your knowledge into a course, and sell that course for cash.
You're getting them all for nothing …
To grab your copy, just click the button below. But do it fast! This offer is for a LIMITED time only!