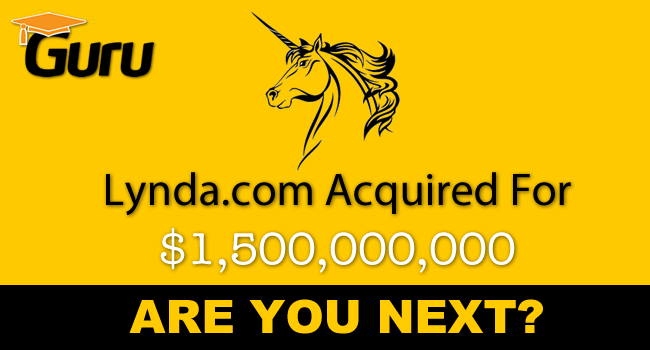 Last month, Lynda.com, an online training platform, was picked up by LinkedIn for $1.5 billion! That's a lot of dough, and it means two things:
Online training is HOT!

Big buyers have noticed that it's a huge money generator, and want in.

There is plenty of room for other learning platforms to thrive and even be sold for huge bucks.
With Guru, our learning system, you can easily create an education platform just like Lynda.com's. You can sell your own courses or market courses created by other teachers and make lots of cash in no time at all.
$100 OFF - ONE TIME PROMOTION
To celebrate Lynda's sale and to help others achieve the same success, we are giving Guru away for $100 off the usual price. This celebration will only last for two days, and it's unlikely we'll make this offer again.

Regular price: $297, Special rate: only $197

Promo code: unicorn

Expiration: This promo code will expire on Thursday at Midnight (PST), so be sure to not miss it!

You can easily cover this investment by selling a couple of courses once you have them!

Learn more about Guru

View demo